Press
Press Release
PinkRoséLounge's Asia Debut at ProWine China 2017
2017-08-01
PinkRoséLounge's Asia Debut at ProWine China 2017

The PinkRoséLounge, presented by the organizers of the PinkRoséFestival in Cannes (
www.pinkrosefestival.com
), is celebrating its debut in Asia at ProWine China in Shanghai this November. The PinkRoséLounge will showcase the diversity and extraordinary wealth of Rosés production worldwide.
The PinkRoséLounge Tasting Zone is open to all the Exhibitors who wish to present their labels of rosé. Bottles will be displayed and buyers will be able to get a tasting with a dedicated sommelier. On top of this, the PinkRosé team will hold Master classes for VIP buyers interested in the Rosé market. The buyers will be given a plate of classic Chinese finger food (4-5 pieces) to enjoy with the Rosés wines. For each type of food, 2 to 5 wines will be tasted and commented by the Sommelier.
How to participate to the PinkRoséLounge?
Please email
china@pinkrosefestival.com
before October 15th.
Participation price & more info at http://pinkrosefestival.com/pinkroselounge_prowinechina
---
Show your spirits at the ProWine China Spirits Bar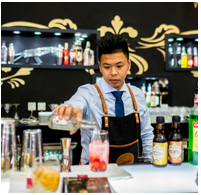 Companies wishing to send Guest Bartenders to the Spirits Bar or have their drinks and ingredients used by professional bartenders operating the Spirits Bar should register their interest in advance.
Please email Iris@Chinaallworld.com before 31st October 2017 and detail the name of your Guest Bartender including a 50 word Bio and or the brand name and spirits type that you wish the professional bartenders to use during ProWine China 2017. Priority will be given to exhibitors who register their interest first.
---
WSET Master Class
The Wine & Spirit Education (WSET) is the world's largest provider of education programmes in the field of wine and spirits. WSET has been providing best-in-class education in wine and spirits since 1969 and currently boasts a network of over 600 Approved Programme Providers (APPs) spanning over 73 countries, including China. WSET is the leading choice in education for both professionals and wine lovers, with over 72,000 students sitting a WSET exam in the 2015/2016 academic year.
In 2015, ProWein became a Silver Patron for WSET. ProWine China is also stepping up its commitment in the field of wine and spirit education, developing the already existing partnership with WSET. WSET will offer an entire series of master classes at ProWine China 2017 as the previous years.
---
ProWine China 2017 Booth Price (Book Your stand now!)
For event and participation details, please visit www.prowinechina.com
ProWine China
Related